About Us
Mamma Mia Ristorante Italiano is a Pizza takeaway in London. Why don't you try our Cestino Di Pane or Patate Al Forno?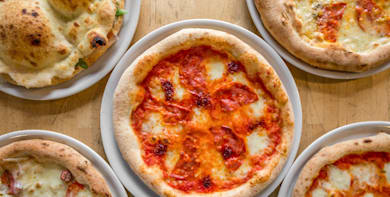 Menu
Garlic Bread
Toasted bread with garlic & butter
£3.95
Pizza Bread
Genovese bread with olive oil, rosemary & rock sea salt
£7.50
Cestino Di Pane
Basket of bread
£3.95
Misto Di Olive
Mixed marinated olives
£2.99
Antipasto Della Casa
Selection of cold Italian cuts, cheese, grilled vegetables
£10.99
Bruschetta Al Pomodoro
Ripe tomatoes, basil, garlic & olive oil on bread
£4.50
Grigliata Di Gamberoni
Tiger prawns marinated with lemon, garlic & parsley, grilled to perfection
£7.99
Bruschetta Al Salmone
Thinly sliced Tasmanian smoked salmon with Philadephia cheese on bread
£4.99
Caprese
Fresh mozzarella, tomatoes & basil on bread. 3 Pieces per serve
£5.45
Calamari Fritti
Deep-fried tender rings squid on a bed of rocket salad
£6.45
Zuppa Del Giorno
Soup of the day
£4.99
Insalata Primavera
Crunchy cos lettuce, artichokes, feta cheese & cherry tomatoes
£9.99
Chicken Caesar Salad
World famous Caesar salad with grilled chicken
£11.99
Paccheri Mamma Mia
Pasta in the shape of large tubes, originating from Campania with baby prawns & grated zucchini in a light creamy sauce
£12.99
Spaghetti Ai Frutti Di Mare
An Italian favourite: pasta spaghetti with a variety of "fruits of the Mediterranean Sea"
£12.75
Spaghetti Alle Vongole in Rosso
Tiny baby clams & fresh cherry tomatoes whose sauce is created on the cooked spaghetti
£12.75
Tagliatelle Ai Funghi E Olio Di Tartufo
Fresh egg pasta tagliatelle & wild mushroom with the scent of Italian truffle oil with fresh chilli
£12.45
Lasagna
Lasagna is made of egg pasta sheets stuffed with mozzarella, bolognese sauce & bechamel
£10.45
Ravioli Burro E Salvia
Fresh spinach & ricotta ravioli with butter & sage
£10.50
Gnocchi Alla Sorrentina
Traditional Italian starchy potato dumpling baked with mozzarella cheese
£9.99
Gnocchi Ai Quattro Formaggi
A creamy sauce with gorgonzola, mozzarella, parmesan pecorino
£9.99
Spaghetti Bolognese
Chef Luca grandmother's recipe spaghetti on bolognese sauce
£9.75
Spaghetti Carbonara
From Rome to London a classic that will never change
£9.95
Spaghetti Aglio Olio & Peperoncino
Fresh chillies, garlic & olive oil
£9.45
Penne Arrabbiata
A variety of penne napoli with mixed fresh chillies
£8.99
Spaghetti Al Pesto
Homemade Genovese pesto sauce with basil, peanuts & parmesan cheese
£8.99
Penne Napoli
A light al dente pasta dish with tomato sauce & fresh basil
£8.75
4 Stagioni Pizza
Tomato, cheese, ham, artichokes, mushrooms, olives
£12.95
Frutti Di Mare Pizza
Tomato, cheese, anchovies, prawns, baby clams
£10.45
Margherita Pizza
Tomato, cheese, basil
£8.99
Vegetariana Pizza
Tomato, cheese, capsicum, onion, mushroom, olives, artichokes
£9.99
Mediterranean Chicken Pizza
Tomato, cheese, spicy chicken
£10.99
Toscana Pizza
Tomato, cheese, Italian sausages, mushroom
£10.99
Mexicana Pizza
Tomato, cheese, hot pepperoni, capsicum, onion, olives, chillies
£11.50
Hawaiiana Pizza
Tomato, cheese, ham, pineapple
£11.90
Australiana Pizza
Tomato, cheese, bacon, egg
£12.99
Americana Pizza
Tomato, cheese, hot pepperoni & Frankfurt's hot dogs
£12.99
Beef Steak
Beef rump steak with Diane or peppercorn sauce
£18.99
Grilled Lamb Cutlets
Marinated in Italian herbs & grilled until crisp on the outside & juicy on the inside
£15.99
Scaloppine Al Marsala
Thinly veal  nut steak, dusted with flour & semi glazed in marsala wine
£14.99
Veal Limone
Dusted with flour & semi glazed in lemon juice
£13.99
Veal Fungi
Veal slices dusted with flour & finished of in a creamy mushroom sauce
£13.99
Veal Bolognese
Slices of veal pan fried in sweet butter & topped with ham & cheese
£13.89
Pollo Al Fungi
Breast of chicken pan fried with creamy mushroom sauce
£14.99
Pollo Con Avocado
Breast of chicken pan fried with creamy avocado sauce
£12.99
Pollo All' Arancia
Breast of chicken pan fried cooked in oranges sauce
£12.79
Pollo Alla Diavola
Spicy pan fried breast of chicken
£12.49
Cotoletta Di Pollo
Secretly breaded & golden fried chicken breast
£11.49
Filletto Di Branzino
Grilled seabass
£14.45
Salmone Alla Grigila
Grilled fillet of salmon
£15.99
Calamari Fritti
Deep-fried tender rings squid on a bed of rocket salad
£12.99
Patate Al Forno
Baked potatoes
£4.99
Polenta
Traditional Italian dish made of corn maize flour
£3.75
Grigliata Di Verdure
Grilled vegetables
£5.99
Tiramisu
Freshly homemade by our chef
£5.45
Panna Cotta
Freshly homemade by our chef
£5.45
Lemon Delight
Refreshing lemon sorbet served in a real lemon skin
£4.99
Gelato
Three scoops of ice cream vanilla, strawberry & chocolate flavours
£4.75
Coke Zero 330ml
Glass bottle
£2.99
Sprite 330ml
Glass bottle
£2.99
Mango Juice Cartoon
1 Ltr
£3.30
Orange Juice Cartoon
1 Ltr
£3.30
Apple Juice Cartoon
1 Ltr
£3.30
Pineapple Juice Cartoon
1 Ltr
£3.30
Contact Us
Find Us
36 Queensway, London, W23RX
We deliver to
NW8, W10, W11, W1A, W2, W8, W9